Drift and Centre Pin Fishing
Drift Fishing is when a fisherman casts their line out with a baited hook, weight and a float. You then let it drift through the water at a steady pace and wait till your float disappears, that is when you strike or in some cases start counting down to setting the hook.
Centre Pin fishing is a very old style of fishing you do not see much of here in Alberta. It is a great way to drift a river without your hook being pushed into the shore line. This style can be tricky to get onto as the casting is complete opposite of how we would normally cast. There is no drag in the reel and the rod is usually at least 9 feet long, it is almost a bit like fly fishing.
It is a very exciting way to fish and you have to really pay attention.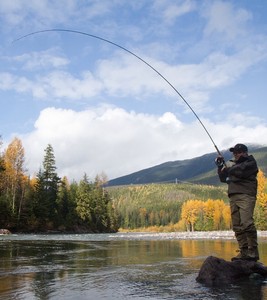 Centre Pin Fishing